Login Enterprise for
Azure Virtual Desktop (AVD)
Simplify AVD management using a single console
Login Enterprise adds unmatched value to Azure Virtual Desktop (AVD) environments enabling IT teams to deliver great end-user experiences while keeping budgets in check. Achieve better control with a single solution that monitors performance, cost, and capacity from the end user's perspective and end-to-end.
Trusted by Login VSI Customers: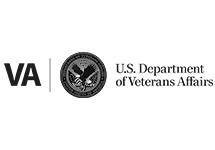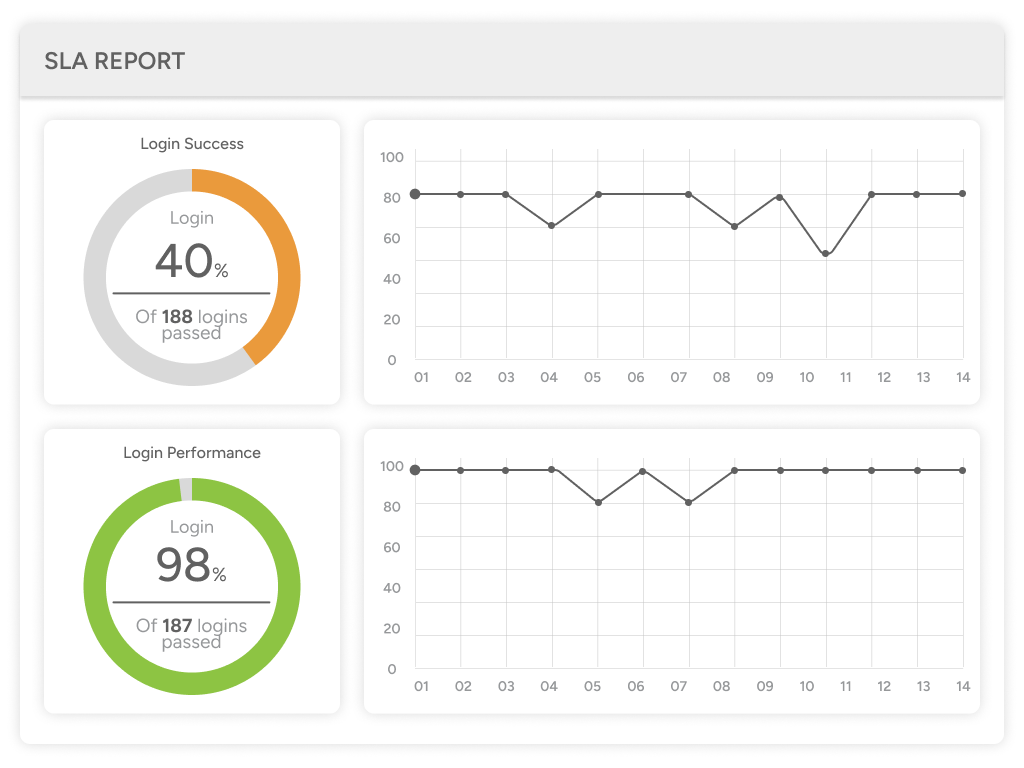 Identifying the balance between cost and performance is critical. Getting it wrong could mean poor user experience or overspending.
Leverage data-driven benchmarks and determine the suitable trade-off between cost and performance

Compare instance sizes side-by-side and zero in on the best candidate

Select the right blend of on-demand and always-on virtual machines

Choose the optimal storage for virtual machine, user data, user profile, and application layers
Gain deep insights so you can make smarter financial decisions without compromising end-user experience. Analyze and assign costs between compute, network, storage, application, and security layers.
Forecast run, CapEx and OpEx costs; reducing the risk of surprise cost overruns

Understand the cost impact when moving to the cloud or changing any component in the stack

Evaluate usage and infrastructure to identify cost savings in real time

Compare optimization strategies to bring down the cost per component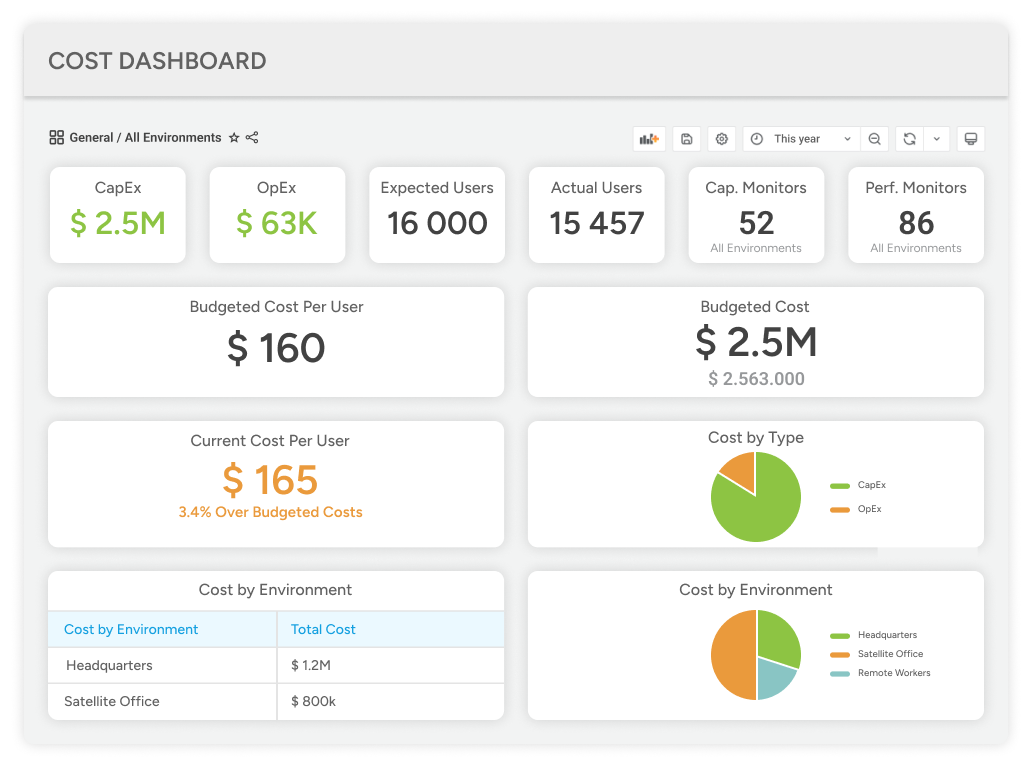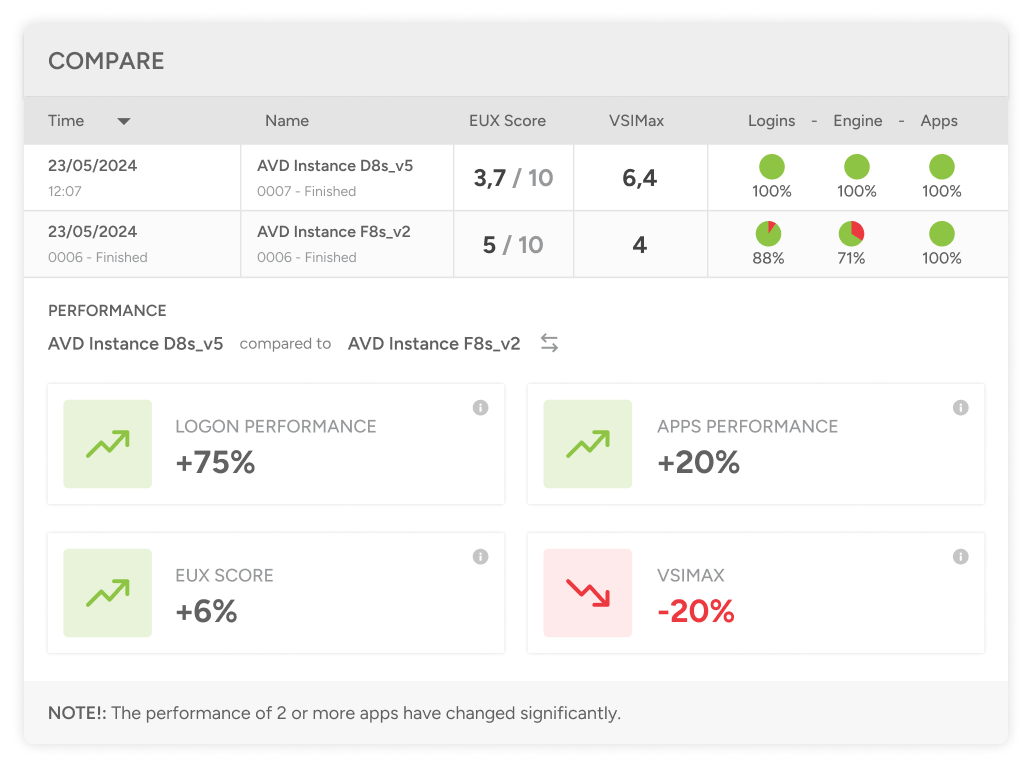 Proactively Hunt for Issues
Proactively detect AVD user experience issues and pinpoint the root-cause quickly and efficiently. Continuously test AVD user experience and baseline through synthetic simulation.
Measure all aspects of the user experience including availability, login time, and application performance

Validate application layering is functioning as expected

Leverage built-in alerts and be the first to know of user experience issues

Predict trends over time to get ahead of creeping degradation
Plan capacity wisely by forecasting when hosts and guest VMs will run out of resources. Confidently add more users to a current environment while maintaining consistent performance.
Adjust configurations at any point in testing, deployment, or ongoing operations

Get insights for cloud right-sizing and optimization

Detect when different instances might be needed to maintain/optimize existing environments

Evaluate whether existing environments will support newer operating systems, runtimes, or business-critical application upgrades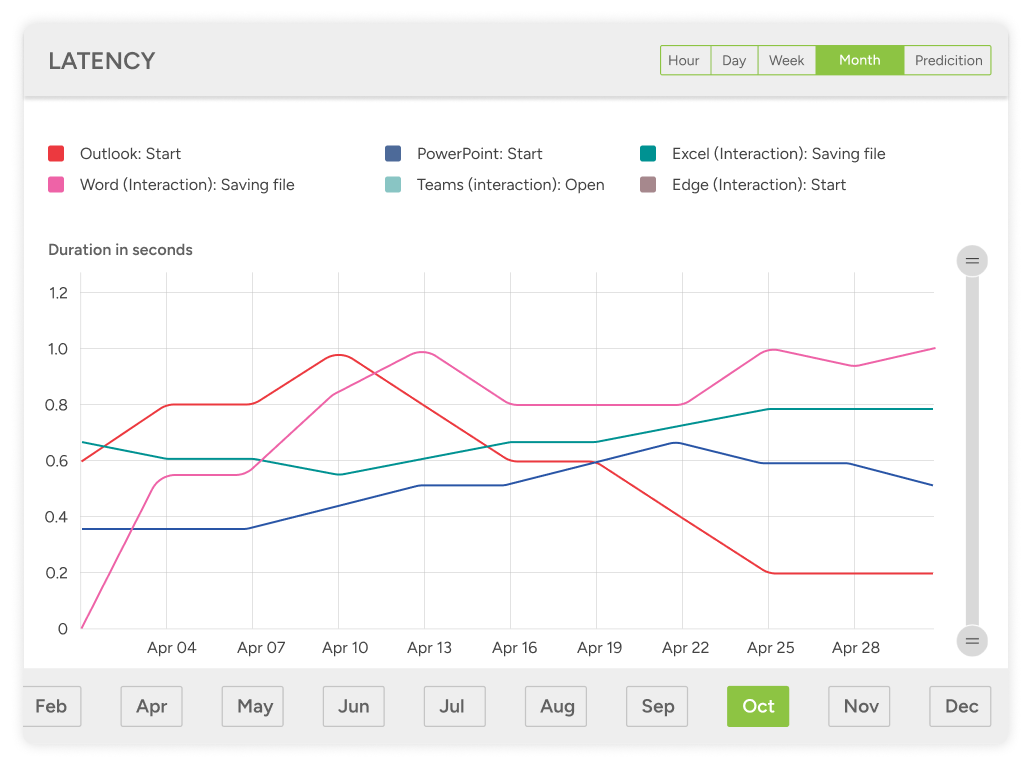 Troubleshoot Slow Logins and Application Performance
Simulate user logins and application workflows to catch issues before real users are affected. Go beyond application launch with detailed workflows actually simulating user actions.
Test login and application performance 24x7

Measure time taken for every step of the logon process

Detect which step of the login process is causing slowness, including display protocol connection, GPO processing and profile load

Establish baselines and compare user experience across locations
Partnered with Industry Leaders:










Request a Demo
Schedule a 1:1 expert-led demo today
Get the most out of your AVD experience with Login Enterprise - your single pane of glass for actionable insights across performance, cost, and capacity.
Let us show you how it works.


Get expert advice and answers to your most critical questions


Learn how Login VSI can address your specific needs


See the exclusive features and benefits that can help your team improve their digital experience


Discover how to ensure business continuity by continuously testing application performance and availability